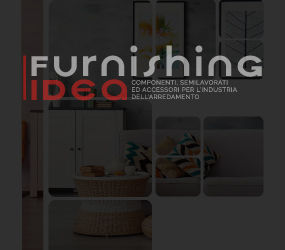 Ostermann, the edging specialist, will be exhibiting at Sicam 2021, the International Exhibition of Components, Accessories and Semi-finished Products for the Furniture Industry which will take place in Pordenone from 12th to 15th October. After the cancellation of all exhibitions due to the pandemic, Sicam will finally be the occasion for Ostermann to present the latest trends in the world of edgings and a wide range of innovative products at its stand.
Super matt edges and marble effect edges
As always, Ostermann's stand will offer visitors a wide range of edgings that can be combined with the panel manufacturers' current collections. In addition, there will also be many innovative and currently very trendy edgings such as super matt and marble effect edgings. In fact, the company has a growing range of variants with the "Anti-Fingerprint Excellent Matt" finish, edgings that, in addition to having an extremely matt appearance, also ensure an anti-fingerprint effect that is much in demand, especially in the design of kitchen, bathroom and living room furniture. Another interesting novelty at the stand is represented by the marble effect edges. Marble is becoming more and more popular in the world of interior design: it guarantees a high quality effect, has a very versatile appearance and its different colors and inclusions make each individual panel unique. To meet these requirements Ostermann is offering new ABS edgings with marble effect in its product range. These are available in the sizes 23, 33, 43 and 100 x 2 mm and are supplied from 1 meter in length. Also not to be missed are the many new oak variants in the veneer edging range.
Brand new from Ostermann: shutters and linoleum for made-to-measure furniture
Ostermann has a brand new product at Sicam: two new services which aim to make the work of carpenters easier in particular: shutters for every furnishing and installation situation and custom-made linoleum.
As far as rolling shutters are concerned, the range varies from solid aluminum elements to numerous plastic shutters to real wood and glass shutters. Products can be supplied exactly as required and are available as stock items, pre-assembled or ready for installation.
Custom-cut linoleum can be pressed as you receive it and requires no further processing.
New finishes that are easy and quick to process
Ostermann has also long been a leading name in design for innovative products. The range of natural surfaces for furniture and walls has recently been updated with numerous finishes that are quick and easy to work with. At the booth, visitors will be able to see for themselves all the new products in the RollBeton, RollTravertin and Sibu design panels ranges.
The company has recently introduced new colors of RollBeton smooth: the anthracite and light natural variants are characterized by a particularly smooth surface with excellent color uniformity and are therefore also suitable as furniture finishes. RollBeton smooth is available in the dimensions 3000 mm x 1000 mm and with a thickness of 2 mm.
RollTravertin is a newcomer to Ostermann's range. With its dark grey color, it is a stylish addition to the RollBeton surface range. It is a reproduction of limestone, more precisely of Roman travertine. At Ostermann, the new finishes are available in rolls of 1200 mm x 2800 mm and with a thickness of only 1.5 mm.
Ostermann at Sicam 2021 Hall 3 Stand A12
Request information
Ostermann Italia Srl
Via Germania 38, Peraga Di Vigonza, 35010, Padova, Italia
---