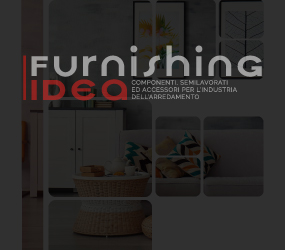 Linoleum is a traditional high quality material that is increasingly appreciated for the construction of furniture. Its slight elasticity offers a pleasant sensation to the touch. It also has anti-static, slightly fungicidal and bacteriostatic properties.
On the basis of the numerous requests received from its customers, Ostermann, the European leader in the edging and hardware trade, has now developed the edgings that perfectly match the Desktop surfaces of the Furniture Linoleum range from Forbo.
This trendy material is used in public buildings, offices, laboratories, as well as in furniture for private use. Ostermann supplies it in a very interesting range of colours.

Perfectly matched tactile effect

Ostermann has specially developed the ABS edgings in combination with many of the most popular colours from the Forbo Desktop collection. The edges not only match in colour, but also reflect the special tactile effect of the surface with their thin, soft hammered finish. Standard sizes available are 23, 33, 43 and 100 x 1 mm. As always, Ostermann will be happy to supply the relevant sample set on request.


Velvet-matt surface: a special feeling

The soft hammered finish is a relatively light embossing, which is subtly filigree to the touch. Thanks to its slight embossing, the matt surface is scratch-resistant and stain-resistant, making it also suitable for use on high-wear furniture.


Edges from 1 meter delivered in 24 hours
Ostermann, known for its fast stock delivery service, supplies ABS edges, melamine, acrylic, aluminium and real wood from 1 metre and in every width up to 100 mm. The Ostermann edging range, the largest in Europe, comprises more than 12,000 edgings in combination with panels from over 70 suppliers.

Request information
Ostermann Italia Srl
Via Germania 38, Peraga Di Vigonza, 35010, Padova, Italia
---