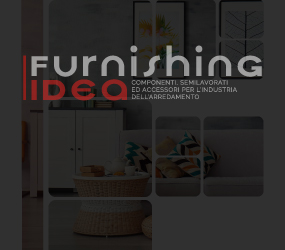 With an annual turnover of over 3.5 billion euros, polymer specialist Rehau is a solid family company with over 20,000 employees at more than 170 locations worldwide.
The company proposed numerous new products at interzum, which were presented in an unusual way in an area called "Future Apartment", where visitors could follow an engaging and extremely interactive path. Conceived by the multidisciplinary studio Ippolito Fleitz Group, the Apartment of the Future was organized into three distinct functional blocks: the kitchen environment made interactive thanks to the smart functions applied to the Rauvisio surfaces and the Rauvolet systems, proposed with motorized shutters and intelligent displays. In the living area, the individually programmable, backlit edges of Raukantex lite, which can be controlled by means of invisible switches integrated into the surface, created a striking atmosphere. Finally, the bathroom area featured the Rauvisio crystal surfaces and the lighting fixtures on the outer edges of the washbasins and bathtubs.


Intelligent surfaces, digitally printed edgebanding solutions, shutter systems

Among the other novelties presented at interzum by Rehau is the exclusive Rauvisio mineral | Hanex Solid Surface, created in partnership with Hyundai L&C and usable both internally and externally thanks to its flexibility and resistance.
Rauvisio surfaces are updated with new colours inspired by nature, such as Roccia, Grafite and Titanio, while the new Rauvolet crystal-line and Rauvolet brilliant-line shutters offer furniture manufacturers and designers additional possibilities to design with great creative freedom. Finally, the range of Raukantex edgebanding solutions and the new digital printing service have also been updated.