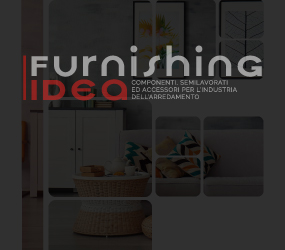 Rehau, a leading supplier of components for the furniture industry and a long-standing specialist in the processing of polymers, is expanding its range of polymeric lacquered surfaces with the new Rauvisio fino metallic decorative finishes.
The Rauvisio fino polymeric laminates are a valid alternative to traditional lacquered components able to limit costs while maintaining high final quality: they guarantee functionality, durability and infinite creative possibilities.
Rauvisio fino metallic surfaces: new metallic finishes

Rauvisio fino metallic polymeric laminates, with their new metallic shades, are particularly suitable for giving bright accents to the fronts of vertical furniture. The new metallic finishes Ivory, Chestnut, Silver and Iron are in addition to the eight shades already in the range and, to respond to the latest trends in interior design, are available in matt and super gloss versions. The wide range of Rauvisio fino polymeric laminates thus provides architects, designers and furniture manufacturers with new colour options to create furniture with a brilliant design and even more creative personalization of environments.
Rauvisio fino polymeric laminate: ecological and easy to work with

Like all Rauvisio surfaces in Rehau, the Rauvisio fino polymeric laminate allows maximum processing flexibility thanks to the possibility of being processed in different ways using common woodworking tools. It is also an ecological product, halogen and PVC-free, and recyclable, confirming the company's focus on sustainability.

Raukantex pro edgings in combination with Rauvisio fino panels

To ensure perfect aesthetics, Rehau offers, in combination with the Rauvisio fino polymer laminate panel, the Raukantex pro edging available in matching design. Suitable for all types of processing - laser, Hot-Air, plasma and infrared (NIR: Near Infrared Radiation) - and equipped with a 100% functional polymeric layer, the edges of the Raukantex pro line allow for a zero-gap effect over time, resulting in a pleasant effect of visual continuity.