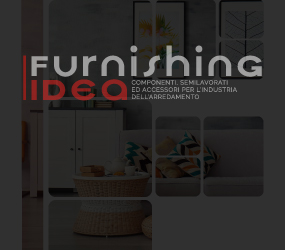 Ostermann is the European leader in the edging and hardware trade. This success is due to the fact that the company offers the widest range of edgings in Europe, a range that includes more than 12,000 edgings in combination with panels from more than 70 suppliers and that it is constantly evolving precisely in order to always respond punctually to customer requirements.
The latest additions to Ostermann's range include desktop matching edgings from Forbo's Furniture Linoleum range and ABS Compact-Style edgings.
Edges matched to Forbo's Desktop Surfaces

Following numerous requests from its customers, Ostermann has developed the edges that perfectly match the Desktop surfaces of the Furniture Linoleum range from Forbo. Linoleum is a traditional material often used today for furniture construction because of its high quality and pleasant feel. It also has anti-static, slightly fungicidal and bacteriostatic properties. Ostermann has specially developed these ABS edgings in combination with numerous colours from the Forbo Desktop collection. The edges not only come in a range of attractive colours, but also reflect the special tactile effect of the surface thanks to their thin, soft hammered finish. The soft hammered finish is a relatively light, subtly filigree touch embossing, which makes the velvet-matt surface scratch-resistant and stain-resistant and therefore suitable for use on high-wear furniture.
Standard sizes available are 23, 33, 43 and 100 x 1 mm.
Compact-Style Edges from Ostermann

Ostermann Compact-Style edgings have always been very popular. After introducing a number of variants last spring with a large oak-coloured centre strip, Ostermann has expanded the range of these edgings with two new decors: Multiplex-bianco and White-Black.
When applied to a white particle board, such as a Pfeiderer U11027 Icy White panel, these edges create the high-quality effect of a high-quality real wood panel where a solid-coloured laminate has been pressed on both sides.
The white side strips of the ABS Compact-Style Multiplex-bianco edge are perfectly suited to a white particle board. In the middle, the edge has a wide strip with a high-quality multiplex decor. The edge, once applied, creates the illusion of a high quality multiplex panel to which a white, all-coloured laminate has been applied on both sides.
In the White-Black version, the central strip is black. In this case, a white chipboard panel creates the illusion of a solid black solid HPL panel, on whose sides white laminate has been pressed.
The new edges are available in 23 x 1.3 mm sizes from 1 m.
Ostermann is present at interzum Colonia: Hall 10.2 - Stand H70

Request information
Ostermann Italia Srl
Via Germania 38, Peraga Di Vigonza, 35010, Padova, Italia
---