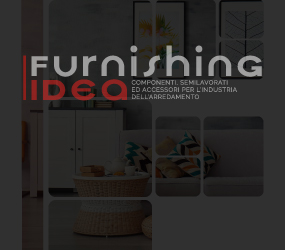 Ostermann will present at the next Sicam not only edges, profiles, glues and detergents, but also, for the first time, a selected range of surfaces.
RollBeton, RollRost and Linoleum for Forbo furnishings: these are the three trendy surfaces that enrich the already vast range of products proposed by the company, offering customers a new inspiration for furnishings.
RollBeton and RollRost for an industrial look

Among the most current design trends there is the so-called "Industrial look" that is inserted not only in the contract or in furniture for shops, but is increasingly used also for renovations and for the realization of private projects. The new RollBeton (Roll Cement) and RollRost (Roll Rust) surfaces, light and flexible, respond precisely to this need.
RollBeton gives the environment a modern appearance. The supply also includes a pack of putty to seal joints, edges and sides. The material is light, flexible and antistatic and, unlike concrete, it can be processed practically without creating dust.
As for RollRost, it is a surface with mineral fillet cross-linked with synthetic resin and oxidized iron filings; RollRost looks like real rusty iron at the look and feel. Unlike this however, it is a flexible and light material and can be easily worked.
The RollBeton and RollRost surfaces are packaged manually, so each piece is unique and can have slight variations in colour. For this reason the colour shades proposed are purely indicative, an exact match of the colours to the samples is impossible. These are CE certified products, made in Germany. Both surfaces have a thickness of 1-2,5 mm and are provided on the back of a glass fibre layer as a support. They are supplied in rolls in the dimensions of 3000 x 1000 mm and are available in 4 different decors.
Linoleum for Forbo furniture

Thanks to its unique appearance and tactile effect, Linoleum for furniture gives the horizontal and vertical surfaces a distinct naturalness. Ostermann Italia now has in its range the entire Linoleum for Forbo furnishings collection and delivers in very small quantities directly from its warehouse.
Request information
Ostermann Italia Srl
Via Germania 38, Peraga Di Vigonza, 35010, Padova, Italia
---