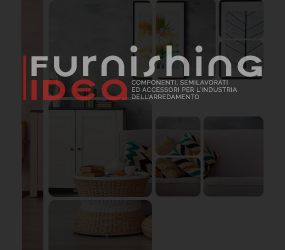 Today sees the start of interzum @home, the first online edition of interzum, the major trade fair for furniture components, supplies and semi-finished products that this year will be held exclusively online, due to the continuing restrictions caused by the health emergency.
"It will be a strong experience, which I'm convinced will totally involve both exhibitors and visitors", commented the CEO of Koelnmesse Italia, Thomas Rosolia. "A different way to meet, to show trends and products, an engaging demonstration of how much value digital can add to the traditional exhibition, which and how many possibilities can enrich the next editions of our fairs". "Obviously, we would all have preferred to meet on the banks of the Rhine," continued Rosolia, "but we will surprise many with what we will be showing between now and 7 May, different but still effective ways of illustrating inspirations, trends, ideas, novelties and creating business!
Great expectations for the novelties presented online

There is great anticipation and curiosity on everyone's part to see what this completely new event will be like, starting with the Italian companies that have accepted to take part in this challenge, including 3B, Altaflex, Ambos, Aper, Arpa Industriale, Brighi Tecnologie Italia, Dolphinpack, Elletipi, Fratelli Rossetto, Lacon Fantoni Group, Fema Industry, Formenti & Giovenzana, G Technologies, Lemi, Servetto, Tabu and Topstar. Alongside them are many companies from other countries, such as Hettich, Häfele, Blum, Vauth-Sagel, Grass, Kesseböhmer, Schüco Alu Competence, Titus, Samet, Rehau, Hawa Sliding Solutions, Hailo, Agoform, Sugatsune, Mesan, Elektra, Halemeier, Schattdecor, Impress, Surteco, Continental, Unilin, Sonae Arauco, Senosan, Europlac, Leggett & Platt International Bedding, Global Systems Group, Spühl, Masias, Fecken-Kirfel, Vita Group or Boyteks...
For some exhibition segments such as "Function & Components", hardware, or "Materials & Nature", decors and surfaces, this digital experience is undoubtedly easier, but in general terms the organisers are satisfied with the number of registrations received, knowing that this is a gamble that not all interzum exhibitors are ready and prepared to take from the 2021 edition.
Numerous side initiatives

The digital format nevertheless retains a whole series of side initiatives that have always framed the important event in Cologne.
Katrin de Louw (Trendfilter) curates the "interzum Trend Stage", the platform where all the trends that will characterise the near future are shown: the digital stage of interzum @home promotes materials, colours, surfaces. Innovative and ecological products are in the spotlight at the "Green Smart Materials" event, while the theme of the circular economy is developed at the "Mattress Recycling" stage.
There will also be many meetings, events and master classes dedicated to the theme of materials and sustainability at "materials-cologne". In collaboration with interzum @home, the event's founder Martin Beeh organises specialist lectures by international experts on topics relating to materials and various master classes to reach an audience consisting mainly of designers, architects, interior designers and professionals from innovative companies.
Last but not least, the eleventh edition of the prestigious "Interzum award intelligent material & design 2021", organised in collaboration with Red Dot, will award the best products in the "Function & Components", "Materials & Nature" and "Textile & Machinery" categories today, 4 May. The interzum awards ceremony is also being held digitally.
To visit interzum @home you can purchase tickets via the online ticket shop https://www.interzum.com/fair/tickets/buy-tickets/.