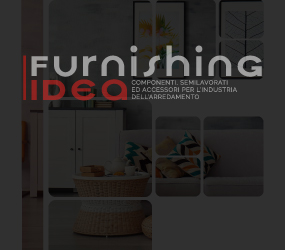 Free e-drive is the new electromechanical drive created by Häfele to handle all the products in its Free range. Extremely easy to install, thanks to the plug & play technology, Free e-drive combines perfectly with all the standard mechanisms of the Free family, so to all Free Flap, 1.7 and 3.15, Fold, Up and Swing. By exerting a slight pressure on the leaf or using the appropriate wireless switch, the door opens and closes smoothly without any need for manual intervention. Silent, equipped with an emergency stop function and soft closing, the E-drive version of the Free mechanisms for folding doors is also characterized by its refined design. No wiring is required for the wireless switch and, in the event of a power failure, the leaf can be opened and closed manually without any problem.
The new Free flap H 1.5 flap door mechanism

Another new feature of Häfele is the new Free flap H 1.5 crank-set completely made of techno polymer. The new Free flap H 1.5 is available in three versions and offers, with a hanging height of 400 mm, a maximum load of 5.5 kg in the case of use of just one crank and 11.0 kg in the case of a pair of crank-sets. Like the Maxi flap door mechanism, introduced on the market by Häfele for many years, also the new lightweight Free flap H 1.5 represents a versatile and flexible solution, from multifunctional uses such as push-to-open applications for doors without handles. The opening is very comfortable thanks to the integrated spring pack that absorbs the forces. The precision of the settings of the new crank-set is also ensured by the multi-position stop, a function typical of the whole Free family that allows you to stop the leaf in any position so that it is always easily reachable by the user. The Free Flap H 1.5 folding door mechanism can be assembled quickly and easily, without tools, thanks to the symmetrical fixing plates and the clip hooking system.