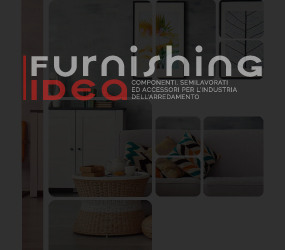 Aventos HK top, the new mechanism by Blum standard folding doors, is characterized by its particular reduced dimensions and a linear design that allows it to fit into the cabinet. Also the new cover plates with essential lines, available in different colors, contribute to make the Aventos HK top lifting system very versatile. The cover plate of Aventos HK top can also be made with a logo.
Soon for Aventos HK top it will be possible to choose between three motion technologies: the Blumotion cushioning, the electrical support for the Servo-Drive movement control and the Tip-On mechanical opening support.
Simple assembly and comfortable adjustment

In the industrial production of furniture, the processing of Aventos HK top is considerably simplified thanks to different types of assembly: it is possible to choose the assembly with EURO screws and preassembled grafted pivots or an assembly with chipboard screws and an integrated stop template. In both cases Aventos HK top can be assembled symmetrical on the left side or on the right side.
The new Aventos HK top folding door system also offers the same level of comfort as the front panel of the Aventos family. The adjustment of the force base with Aventos HK top takes place comfortably from the front, even with the cover plate applied. The opening corner limiter is integrated and allows continuous adjustment. The safety solution is integrated directly into the accessory and prevents inadvertent activation of the preloaded lever.
Aventos HK top of Blum was awarded with the 2018 reddot award.