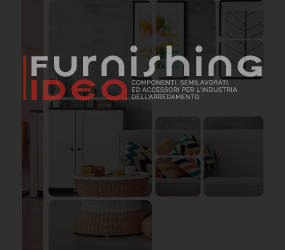 From Monday 12 to Sunday 18 April, the Fuorisalone Digital Edition will take place in Milan, on the occasion of Milano Design City, in digital format, during which product previews, round tables, virtual events and webinars will be presented with the various partners involved.
The event anticipates the appointment scheduled from 5 to 10 September in conjunction with the Salone del Mobile in Milan, on which all Fuorisalone operators are working to confirm Milan as the capital of design, an international reference point.
"Forms of Living" theme of the 2021 edition

The theme of the 2021 edition of Fuorisalone Digital Edition is "Forms of Living" and it will be an opportunity for discussion and debate on living needs and domestic spaces, which have become increasingly central to our lives over the past year.
It will also be an opportunity to broaden the reflection to the themes of the environment, the city and its relationships and how they are changing in this particular historical moment. The concept of contemporary living in its various forms will be analysed between design, art, architecture and anthropology, focusing in particular on current issues such as circular design, sustainability and wellbeing.
"Pandemic has changed the rules of the game, accelerating processes of sharing and modes of online fruition," says Paolo Casati of Studiolabo, Fuorisalone's organiser. "The 2021 edition of Fuorisalone follows up on the objectives set during the previous year: the theme chosen is more topical than ever, it is an invitation to confrontation, a moment to stop and reflect on what are the new ways of living, its declinations, the changes taking place. In a context where design becomes a useful tool for proposing solutions and new scenarios".
The Fuorisalone Design Guide project

The new Fuorisalone Design Guide project shifts the focus of the communication platform, so that the guide to events becomes an integral part of a more articulated system, an observatory on the world of design active all year round thanks to an editorial plan distributed over several channels: website, magazine, TV and Meets.
"Digital will not be able to replace the in-person event, but it is in fact a tool to support companies that over time will become integrated with the physical event and will become increasingly important," says Studiolabo's Cristian Confalonieri. "We are in a historical moment in which companies can no longer ignore the importance of presiding over the web, activating effective communication. Because the design market is an inspirational market".