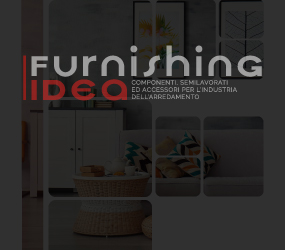 The final balance for 2021, prepared by the Studies Office of
Acimall,
the association of Italian manufacturers of
technologies for the wood and furniture industry
, reveals a decidedly positive year.
In fact, production stood at 2,530 million euros, with a growth of 36.9 percent over 2020 and 11.6 percent compared to 2019.
The figure for exports is also positive, reaching 1,740 million euros (plus 30.8 percent on 2020; plus 10.1 percent on 2019), with an internal market showing concrete signs of vitality (790 million euros ; plus 52.5 per cent on 2020 and plus 15.1 per cent on 2019).
Imports are also growing, reaching 244 million euros, 59.4 compared to 2020, 21.4 percent more than in 2019.
Positive data also for the trade balance, equal to 1,496 million euros (plus 27.1 per cent on 2020, plus 8.5 per cent on 2019, plus). Lastly, apparent consumption also increased: 1,034 million euros, up 54.1 percent over 2020 and up 16.5 percent over 2019.
A structural growth of the sector
"The 2021 data speak for themselves and show how the technology sector has actually overcome this two-year period of serious difficulties, returning to pre-covid data", commented Dario Corbetta, director of Acimall. "State incentives have undoubtedly played a significant role, but they have not" distorted "the market trend: the growth we are witnessing is based not only on the" incentives component ", which has more than anything else determined a temporal concentration of investment, but also on an evident structural rebound, which has brought the market back to normal development lines ".
"We would like to reassure those who fear that the current trend is generated by the incentives available and that once this" window "is closed we will find ourselves facing a period of stagnation in demand," continued Corbetta. "A conviction supported by economic data for the first months of 2022 which clearly indicate a structural growth of the sector, destined to last".

Italian exports and the Russian-Ukrainian crisis
As we have seen, Italian exports have grown overall both compared to 2020 and 2019. Looking at current events, it can be said first of all that the Russian-Ukrainian crisis has for now determined a limited contraction in Italian exports. In fact, Russia, Ukraine and Belarus absorb, overall, a limited share of our exports, estimated at around 5 per cent of the total, exports which, moreover, seem to continue, albeit with a significant slowdown.
It should also be noted that many woodworking machines, not falling into the category "Dual Use", or can also be used for the production of war material, are not affected by the embargo in place, unlike all the spare parts that are affected. At the moment, banking operations, albeit with some obstacles, have not suffered interruptions, thanks to Russian institutions that can continue to operate.
A positive trend destined to continue
Among the countries most interested in technology for wood and furniture "made in Italy", once again we find the United States in first place (164.2 million euros, plus 13.9 percent on 2020), followed by France (118.2 million, plus 10.3 percent) and from Poland (110.6 million euros, plus 34 percent).Germany ranks fourth among our "customer countries", buying Italian machines for 106.3 million euros, up 11 percent compared to 2020. Followed by the United Kingdom (81.3 million, plus 56 percent), Spain (76.2 million, plus 62.3 percent), Russia (67.3 million, plus 102.4 percent) and China, which carries out orders in Italy for 60.1 million with a decrease of 19 percent, the only country with a negative figure in 2021. Belgium (in ninth place with 56.6 million euros, plus 18.4 percent) and Austria (54.5 million, plus 36.6 percent) close the ranking.
The positive trend is destined to continue for the current year, even if the supply difficulties and the questions related to the Russian-Ukrainian conflict and the trend of the Covid-19 pandemic could change the situation.