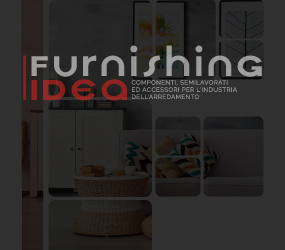 Saib, one of the leading Italian companies producing raw and melamine chipboard for furniture and interior design, celebrates this year 60 years of activity and consolidated successes. An activity based on quality and research carried out by the company managed from the beginning to the same family group and today led by Clara Conti, Giuseppe Conti and Sergio Doriguzzi who alternate, by company statute, in the position of CEO.
A story of sustainability

Founded in 1962 on the initiative of Eva Bosi and Giorgio Rinaldi, since 1994 Saib has started a completely sustainable production process, Rewood, using only wood at the end of its life, reaching today to regenerate about 600,000 tons of wood per year deriving from separate collection. These products are defined RPB, or Regenerated Particle Board, precisely because of the production process based on the regenerative economy that allows to reduce the impact on nature and on the territory.
The production site in Caorso (PC) is at the forefront: a few months ago the new drying and smoke filtering plant was inaugurated to further reduce emissions.
The plant has two continuous production lines of raw panel and four lines of the latest generation of melamine panels for a total production of 2200 m3 per day.

Sustainable production: an economic but also an ethical value
The company constantly invests in technology and research to obtain surfaces with a strong tactile and emotional impact that have obtained many positive appreciations in the high quality product design sector.
Sustainability has always been at the center of Saib's corporate philosophy: in 2021 the company presented the first Sustainability Report prepared on the basis of environmental, social and economic sustainability indicators. Various parameters were analyzed, including the impact of the circular business model developed in over 25 years and the implementation of the production process that avoids the emission of 48,000 tons of CO2 per year into the atmosphere.
These results are fruit of a long and difficult distance that has carried us up to this goal - declares Clara Conti, CEO of Saib - It has been an extremely complex technological challenge. We were pioneers and our path was also characterized by errors and attempts to achieve excellence. Sustainability is for us a serious and complex path that involves all aspects of life on this planet. We are convinced that our responsibility is also to be architects and drivers of change».
Culture, formation and solidarity
Not only attention to the environment, but also to culture and solidarity. In fact, the company promotes art exhibitions, events and editorial products of excellence, with the aim of inspiring reflection on the relationship between mankind, production activities and the environment. In its corporate showroom, Saib hosts and organizes exhibitions and meetings to spread the link between sustainability, ethics and aesthetics through a multidisciplinary approach.
Also involved in training, it supports the SOS-School of Sustainability project, a post-graduate specialization school born in 2015 from an idea of ​​the architect Mario Cucinella, which offers study courses for new professionals in the field of design and sustainable architecture.
There are also many solidarity initiatives such as the sponsorship of the baskin team (inclusive basketball) Vanoli of Cremona and the team of disabled children Dream Team linked to Piacenza Calcio. A way to convey the concepts of inclusiveness, respect, attention and growth through sport.