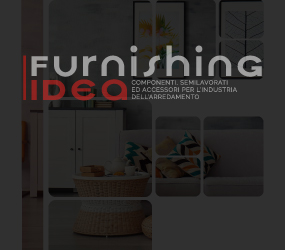 One of the new trends in home furnishings and design for 2019 is certainly wood, a fascinating material that helps to create warmth in every room. Veneered surfaces are also experiencing a small renaissance. Veneered edges attract for their extreme naturalness and at the same time contribute to the preservation of resources. Ostermann, the edge specialist, also offers a wide range of interesting edges here. It provides high-quality real wood edges in thicknesses from 0.5 to 3 mm and transverse wood edges in a variety of wood species and finishes.
Real wood edges in different woods

Whether it's hardwood or coniferous wood, Ostermann offers real wood edges in almost 40 different types of wood. Standard widths are 24, 33 and 43 mm. Some special edgings are also available in different widths. Coils are 50 m wide.
Oak in seven different finishes

Among the different essences in the production of furniture, oak is undoubtedly the most popular. This is why Ostermann currently offers it in 7 different types of finish. Among the many special surfaces we find the split, woodwormed, corrugated and sawn effects. The oak headboard is a further variant of the decor in the wide range offered by the company.
Numerous thicknesses available

There are numerous thicknesses available. Most thin wood edges have a thickness of 0.5 mm. The veneered edges are 1 or 2 mm thick. Some selected essences are also available in a thickness of 3 mm.
Ostermann's thick wood edges are made up of several glued layers of veneer. The thin wood edge, on the other hand, is made up of a single layer of veneer supported on the back by non-woven fabric, or covered with a layer of thermofusing EVA glue.
All edges are joined and sanded so that they can be painted. In addition, the thicker edges have a primer on the back, which ensures a much wider working radius and therefore greater safety.
Ostermann recommends that real wood edges should always be stored horizontally and, if possible, in a plastic bag so that they do not dry out. Impregnating agent, oil or varnish can be applied without any problems.
As always, Ostermann guarantees the fast and reliable delivery of all real wood edges from one reel.
Request information
Ostermann Italia Srl
Via Germania 38, Peraga Di Vigonza, 35010, Padova, Italia
---