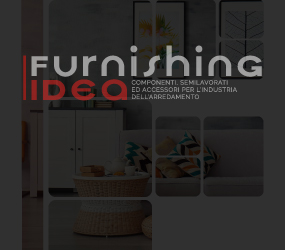 In days when we perceive our environment through monitor and touchpads more and more, the tactile feeling in the furnishing plays a more and more important rule.
It is not a coincidence that the producers of panels offer surfaces in an ample variety of different finishes. In combination with a specific decoration they are therefore proposed different types of finishes. A panel with stone decoration should also reproduce the tactile feeling of the true stone. The same is for the panels in wood, where we opt for a veining perceivable by touch.
In Ostermann view it is always a challenge to combine the edges in ABS with panels as realistic as possible, both from the optic and tactile point of view. "The best edge is the edge which you don't see": this is one of the main principles for the expert of edging. And with a perfect combining of visual level there would be an effect as realistic by touch. Only when the finishing of the edge and the panel are perfectly harmonized, the furniture results as an unique piece without discontinuity.
5 different finishes wood
The wood as raw material is synonymous of nature, authenticity and quality and it gives a special tactile feeling. The solid wood doesn't adapt to any type of piece of furniture or employment, and also the price plays an important role. So many decoration in laminated realistically recall by now the optic and tactile aspect of the natural wood. Ostermann provides the edge for the perfect completion in five different finishes wood: from the delicate pore wood to the discreet pore ash, to the most marked finishes like the structure wood or the structure line, up to the meandra finishimg with clear palpable aspect.
17 different finishes
For the combining with the stone decoration Ostermann has the peculiar finishing stone effect. But also the most classical finishes like smooth, extralucid and the miniperl, they melt well with the different finishes of the panels. A hammered embossing, a fabric finishing and a variety of levels of gloss - from the supermatt to the excellent gloss - they complete the range of the finishes of Ostermann edging.
Ostermann Edging: the perfect completion of the panel
The experts of Ostermann are always searching to provide edging corresponding the most possible in all the aspects to the last decorative panels. This doesn't exclude the simplest finishes: for example the miniperl, hammered or hammered soft finishing for edging destined to scocche or strong furniture for office.
In order to know which edging is available and with which finishing of Ostermann you can visit the Online Shop on www.ostermann.eu
Ostermann is present at Interzum: Hall 10 Stand H 70
Request information
Ostermann Italia Srl
Via Germania 38, Peraga Di Vigonza, 35010, Padova, Italia
---