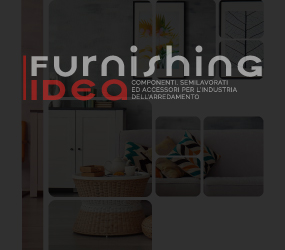 Maria Porro, born in 1983, is the new president of Salone del Mobile.Milano. Former president of Assarredo, she was elected by the Federlegno Arredo Eventi Board of Directors to lead the most important international design event.
Together with the members of the Federlegno Arredo Eventi Board of Directors, she will have the task of continuing the success of the event's 59-year history and outlining new strategies to respond to the major changes of this historic moment, reconciling the needs of exhibitors, the public and international stakeholders.
Accompanying the Show towards future challenges
It will certainly be demanding, but at the same time stimulating challenge. I grew up with the Salone del Mobile," comments Maria Porro. "As a child, I accompanied my grandfather Carlo to the pavilions of the historic venue, I experienced the move to the new spaces in Rho and participated enthusiastically in the Shanghai Show. Today I am honored to take on this role at a crucial time of transformation and I would like to thank those who have supported me in the hope of proving myself worthy of an event that has a history of great success. Together with the entire Board of Directors, we will have the task of accompanying the Salone, a unique and indispensable stage for design, towards the future challenges of sustainability, digitalization, research, innovation, creativity, and inclusion, while maintaining the highest quality".
Gianfranco Marinelli, chairman of Federlegno Arredo Eventi, explained the appointment as follows: "The decision to appoint a young, motivated chairwoman is the result of a strategy that aims to consolidate the event's leading international role in a period of great change. Maria Porro will be able to count on the support of the entire Board of Directors of Federlegno Arredo Eventi in order to continue the path of renewal and growth of the Salone del Mobile.Milano with determination".
Claudio Feltrin, President of FederlegnoArredo, wishing Maria Porro all the best in her work and that of the entire federation, said, "Expertise, passion, creativity, the ability to listen and synthesize, as well as strong roots in the entrepreneurial fabric of the furniture industry and in the history of design. These are the characteristics that distinguish the professional and associative path of Maria Porro who, thanks also to her strong personality, I am sure will transmit to Salone del Mobile the necessary energy to achieve ambitious goals.