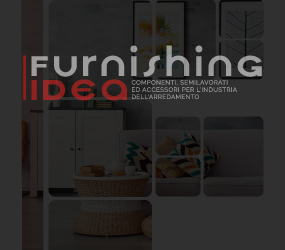 At Sicam 2019, Fantoni presented a wide range of decors, cutting-edge finishes and innovative solutions proposed by La-con, the Group's company specialising in the continuous production of laminates, finishing papers and melamine papers, capable of responding to contemporary design trends.
The leitmotif of the collection of new papers on display is certainly "multi-material" given the presence of stones, marbles, cements and metals, as well as wood in all its meanings. Surfaces for panels, internal claddings and furnishings are studied to suggest refined chromatic and material sensations thanks to the expressive power of the materials and to a balanced mix of textures and colours, finishes and colours that are inspired by nature and fashion in order to design original and welcoming environments.
Impronte 2020: the collection of finishes for CPL and ennobled laminates
A good example is Impronte 2020, the new collection of finishes for CPL (Constant Pressure Laminate) and ennobled laminates (from 10 to 40 mm) obtained with an innovative technology that adds an additional dimension to the surfaces. This extremely flexible system goes beyond traditional finishing plates, facilitating product customisation and changing the traditional concept of surface finishing.
Traditional or unusual combinations, coordinated or whimsical between new decorations and finishes allow to obtain the maximum customization of the product. To facilitate this customization, Fantoni has introduced a new app that allows you to choose a coordinated finish and decorative, making the final product immediately visible.
Fingerfree, a soft touch anti-fingerprint finish
Among the most significant finishes proposed by Fantoni we find Fingerfree, a soft touch finish and totally anti-fingerprint. It is an extremely versatile material that guarantees infinite possibilities of customization. Fingerfree can be applied to all the decorations in the catalogue. The wide range of thicknesses, which varies from 0.15 mm to 1 mm, makes the product perfectly post-formed and suitable for covering curved surfaces such as post-formed doors, profiles, bathroom tops. The Fingerfree Plus version can be combined with all the finishes in the La-con catalogue, from wood pores to stones and fabrics.