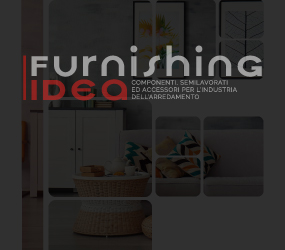 The fifth edition of Sicam, the International Exhibition of Components, Accessories and Semi-finished products for the furniture industry, which was held last October 15 to 18 in Pordenone, ended by recording positive results.
Despite the continuing critical period for the international market of furniture, Sicam once again confirmed its validity and effectiveness to generate business relationships. Are the same numbers to give once again reason for the success of the event: both as regards the participation of visitors, registered well beyond the threshold of sixteen, that for the presences of exhibitors, always confirmed around 500 companies. The overall satisfaction of participating exhibitors is also demonstrated by the fact that have already been notified to the organizers of the first applications for membership in the next edition, scheduled for October 14 to 17, 2014.
"The rate of international reconfirmation of the show, with traders also arrived this year from 95 countries around the world, it is a matter of indisputable fact - noted, Carlo Gobbi SICAM -. Foreign traders have represented this year about 35% of the inputs. It 'a very high percentage, which makes it clear what is today the placement of SICAM exhibition market in the world: we can say that the world of the furniture was in Pordenone, this year even more significantly than in the past " . Were Germany and Russia provenances with the highest number of registrations detected: the first country traditionally great frequenter of SICAM, it's about 9% of foreign visitors and Russia 's 8%.
"Another confirmation that we had also talking with other exhibitors - added Giobbi - is that SICAM is always frequented by traders who have a high decision-making power in their companies, and this is of fundamental importance for those who are present, because the particular format of SICAM rests on its ability to generate great personal relationships. Have in a fair large number of makers then becomes the factor that generates added value to the amount of contacts made. "
Request information
EXPOSICAM SRL
VIA CARDUCCI 12, Milano, 20100, Milano, Italia
---