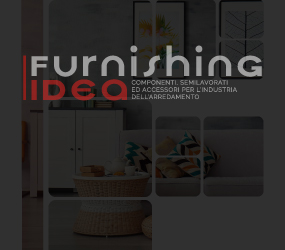 PaperStone® is a new generation technological and ecological material for the production of furniture and furnishings. The world's first composite material made exclusively from 100% recycled FSC® certified paper and cardboard, PaperStone® won the Archiproducts Design Awards 2020 in the "Systems, Components and Materials" category for its concept and design. This green material is made from overlapping layers of 100% recycled paper and cardboard that are then impregnated with a pigmented resin called PetroFree™, which is mainly made from the "pressing" of cashew nut shells and is therefore free of petroleum chemicals.
Natural pigments are also used instead of chemical dyes, which ensures greater UV resistance, stable colours and homogeneous colouring throughout the panel mass.
PaperStone®, a technologically advanced material

PaperStone® is not only a natural material, but also a technologically advanced one. It can withstand temperatures of up to 180°, is 100% water-repellent, certified for food contact, environmentally friendly and non-toxic, having no formaldehyde residues. In addition to these excellent performances, the technological material PaperStone® is aesthetically pleasing, easy to clean, warm to the touch and as strong as steel. All these features make it particularly suitable for the production of kitchen or bathroom tops, representing a valid alternative to traditional solid surfaces.
PaperStone®: two product ranges

PaperStone® is available in two different ranges: the original range called "Solid Color Panels" and the new range of colours called "Design Collection Panels".
The "Solid Color Panels" range consists of 8 solid colours that recall the warm, natural colours of the earth, such as Cabernet, with its distinctive burgundy hues, or Gunmetal, a refined medium-dark grey, or Leather, with its warm colour like leather, or Slate, the unique, textured black of slate that is perfect for all applications, from durable to commercial, from classic to modern.
The new "Design Collection Panels" range of colours was conceived and created to meet the needs of companies, designers and planners who were looking for a material with the same characteristics, but with lighter, brighter colours. Here we find a light blue colour, different shades of light, medium and dark grey up to Sand, the lightest colour in the PaperStone® range, which recalls the natural beauty of sand and perfectly complements the different shades of wood, creating a luminous effect in both domestic and commercial environments. The Design Collection Panels feature a millerighe effect in their thickness and a perfect homogeneity in the colouring of the panel surface.
Distributed in Italy by Sadun, PaperStone® offers a 10-year guarantee on the raw material.
It is available in the standard dimensions 3658 x 1530 mm and in the standard thicknesses: 2 mm - 3 mm - 6 mm - 10 mm - 13 mm - 19 mm.