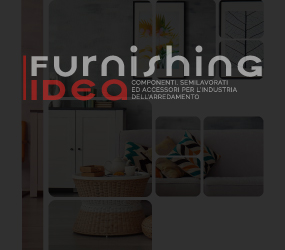 Design, innovation and sustainability have always been the values of Arpa Industriale that, also in this edition of Sicam, have been the fil rouge that has united the novelties presented in an interactive exhibition space.
In addition to Bloom, the new lignin-based technology created by the company's Research and Development Department to increase the use of natural raw materials in the structure of Arpa HPL and FENIX NTM, which was previewed at interzum 2019, the company proposed new exclusive decors for the HPL catalogue, a collection with greater resistance to wear and new colours that enrich the FENIX NTM colour range.
HPL: new exclusive wood decors and the VIS collection
ArpaLab, Arpa Industriale's laboratory of ideas, continues to study new aesthetic solutions for interiors, proposing the decorative wood "Carja Walnut" in the two versions Dark and Light. This decorative in both versions, enhances the natural grain of the American walnut.
The company also presented an absolute preview at Sicam a new collection, called VIS, characterized by greater resistance to wear. The VIS collection combines premium finishes such as Alevè, Kér, Luna, Mika and Urban with a selection of specially designed decors.
FENIX NTM: four shades of white
The FENIX NTM palette, Arpa Industriale's innovative materials that have revolutionized interior design, has been enriched with a new color: the Bianco Malè, Bianco Alaska, Bianco Kos is now joined by Bianco Dover, which offers the possibility to choose between four shades of white. The colour range of FENIX NTM is thus composed of 27 colours. These are very aesthetically pleasing material surfaces, but they are above all high-tech materials that are mainly expressed in their characteristics: extremely opaque, soft to the touch, anti-fingerprint and thermally repairable in case of surface micro-scratches.


FENIX: integrated solutions
Another novelty proposed by the company, aimed at completing the offer for interior projects, is "FENIX Integrated Solutions. Kitchen Sinks", a series of kitchen sinks designed to be integrated with worktops made of FENIX NTM. Made of acrylic resin with an extremely matt and resistant finish, they allow a perfect integration between worktop and sink in Fenix NTM kitchen projects. Two models and fourteen colours from the Fenix NTM collection are available in the catalogue.