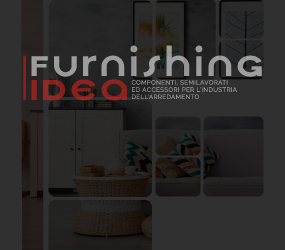 Holzwerk Rockenhausen
, a company of the Kesseböhmer group, has won the German Sustainability Award Design 2023 for
OrganiQ
, an
innovative composite
material made from rapidly renewable vegetable fibers that represents an interesting alternative to solid wood.
OrganiQ an environmentally friendly material
Composed of 68% locally sourced, fast-growing vegetable fibers, hemp and kenaf, and 25% sustainable water-based binders, OrganiQ is formaldehyde- and phenol-free and, as a composite, contains only the 7% PET also recycled. It also offers excellent mechanical properties, can be shaped in three dimensions, is very light, strong and food compatible and can easily compete with wood in terms of aesthetics.
A material that combines convenience and sustainability
With the new material OrganiQ, the Rockenhausen company, known for its interior accessories for kitchen furniture, has developed Easyline and HoLite, two drawer divider systems, customized solutions developed exactly according to individual customer ideas and needs.
Interior solutions made of this material turned out to be more cost-effective than similar products made of solid wood. This could also be an important argument for those producers who complain about rising timber prices. Furthermore, in this way, the company lays the foundations for the construction of furniture in a sustainable and economic way.
Easyline, a versatile modular system
Easyline is a modular system of six elements to configure five sets: cutlery holder and multifunction compartment, wide and narrow adjustable bases, multifunctional unit and push-in dividers.The system adapts universally to all drawer widths and integrates into any kitchen, regardless of manufacturer and type of structure.
Il set 1, composto da un inserto multifunzione e da uno spazio per una sezione accessori, è adatto a cassetti di 300 mm di larghezza. Il set 2 è composto da un inserto portaposate e da due fondi regolabili stretti per cassetti di larghezza compresa tra 400 e 500 mm; il set 3, invece, è progettato per cassetti di larghezza compresa tra 500 e 600 mm ed è composto dall'inserto portaposate con unità multifunzione e spazio aggiuntivo per una sezione accessori. I cassetti e i cestoni larghi da 800 a 900 mm possono essere dotati del Set 4.

Set 1, consisting of a multifunctional insert and space for an accessory section, is suitable for 300 mm wide drawers. Set 2 consists of a cutlery insert and two narrow adjustable bottoms for drawer widths between 400 and 500 mm; set 3, on the other hand, is designed for drawers between 500 and 600 mm wide and consists of the cutlery insert with multifunction unit and additional space for an accessory section. 800 to 900 mm wide drawers and pull-outs can be fitted with Set 4. This comprises a cutlery insert with multifunction unit, a narrow adjustable base, a wide adjustable base, two insertable dividers and space for three accessory compartments. Finally, for widths between 1,000 and 1,200 mm, Set 5 offers a cutlery tray with multifunction unit, two adjustable wide bases, four insertable dividers and space for five accessory compartments.
The EasyLine system is available in all wood types and colors as well as OrganiQ.
HoLite: two new variants
A cutlery tray in black ash, light oak or OrganiQ with three horizontal dividers forms the basis of the HoLite system. The drawers can thus be fitted universally: in cabinet widths of 300 to 1,200 mm and in the standard depths of 472 and 479 mm, with optional depth extensions. The base is fully coated to ensure a homogenous appearance.The system can be expanded with freely positionable dividers over two or three compartments. Variants are available in different wood species and colors as well as in aluminium, steel or plastic. Holzwerk Rockenhausen presented at the latest Sicam two new variants of HoLite, ProR and ProS: in the first, the line that goes from the dividers to the back panels has a rounded shape, in the second, the chamfering forms a contrasting detail on different profiles.