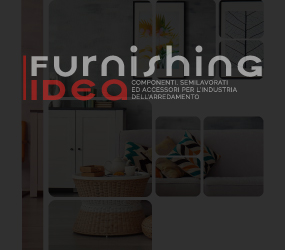 Original creations with strong content of design
Citterio Giulio have been manufacturing furniture handles since 1945, 100% made in Italy. Experience and professional skills supported by a dynamic and state-of-the-art productive structure, they are the trump cards of the company in Renate, in the heart of Brianza.
Citterio Giulio will be present again this year in Sicam with numerous proposals of handles.
The company interprets to the fullest new trends, among which the return of the glass and the transparencies in the kitchen. Some new products express this tendency to the fullest answering to market with solutions with clean and discreet design. These are the codes 8/1140 and 8/1142, "which are receiving a notable success, therefore we will introduce them again in fair" Gianni Gasparoli affirms, export manager of the company. "The models are available in two measures of 32 and 128 mm, with various possibilities of finishing both of the metallic part in zama both of the part in transparent polycarbonate, a noble material with elevated characteristics of transparency, brightness and resistance."
"The whole planning and production - Giulio Citterio underlines, one of the holders of the company - it is realized in Italy, in our seat in Renate. Producing in Italy means to work in close contact with the furniture sector, by tradition cradle of creativeness and innovation. It creates a multilevel synergy, in which the influence among the sectors is mutual and the exchange of intuitions handed to a brave and still winning choice."
This productive philosophy is totally reflected in the ample available offer, which declines it in models with strong content of design, fruit of the constant innovative and technological research, in order to realize models able to differentiate the products compared to the competitors.
The flexibility of production and the attention to the real demands of the market are two key elements of the company.
Citterio Giulio draws great attention in the selection of materials and of raw materials with which he produces his own handles guaranteeing reliability and duration in the time.
Originality always countersigns every creation: all models are deposited and protected by Community Patent, in order to certify the novelty of the product and to protect the company with the continued actions of counterfeiting.
Citterio Giulio will be in Sicam at the pavilion 4, stand B20 - C21.