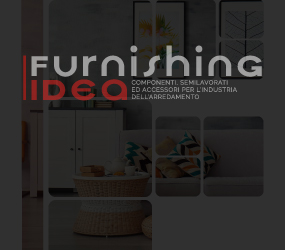 Today, CFN Verniciatura is a company specialising in the contract finishing of furniture components and complements and, on request, also in their manufacture to customer drawings.
Initially the company started as a body shop where cars were painted; it was Nello Fullin who, as a metalworker, decided to set up his own business as a bodyworker in the garage of his home in Tambre in 1981, giving life to CFN, an acronym for Carrozzeria Fullin Nello. Then came the first shed, also in Tambre, together with his brother Graziano. Today CFN Verniciatura is run by Nello's sons, Martino and Nicola Fullin.
In an interview published in the Corriere delle Alpi on 14th February, Martino Fullin tells the story of the company, which this year celebrates thirty years in business, highlighting the strong points that have enabled it to achieve a significant position on the market.
CFN Verniciatura: a reliable and cooperative partner

The decision to diversify and turn to the furniture sector, offering polishing and lacquering of kitchens, dates back to the 1990s; this soon became the company's main activity, so much so that the body shop was closed down.
CFN Verniciatura is now a company specialising in the finishing of modern and design furniture components and complements, and is a partner for industrial and artisan companies looking for a high-end product with attention to detail and customisation.
Our strength", Martino Fullin says in the interview, "is our ability to work on many types of surfaces, such as wood, glass, metal, methacrylate, polyurethane and other plastic materials, with coating cycles that we have severely tested and that are the result of years of experience. This is why we are proposing ourselves as a partner to establish long-lasting collaborative relationships". The company is able to reproduce the effects of steel, marble and stone by painting. Thanks to the experience gained over the last thirty years, CFN Verniciatura always likes to experiment with something new, such as a finish that reproduces the effect of satin stainless steel on wood.
A wide range of customers

Customers range from artisan carpenters who make made-to-measure furniture to manufacturers of interior doors, contract furniture, shop fittings or furniture for the nautical sector, extending its field of operation to the refrigeration sector, which boasts a considerable tradition in the province of Belluno. "We have acquired customers in the commercial refrigeration sector, with regard to the cladding of refrigerated counters. The contact came about through the Limana company Carùs, which deals with moulding polyurethane foam, and we paint for them".

The team and investment in technology

CFN verniciatura is a family business: Martino Fullin, his father Nello, mother Romana Zoppè and brother Nicola work there, plus two employees. "We are looking to expand the team a bit," says Martino Fullin. However, it's not easy to find people who want to learn this job, as it's a special kind of work for which there is no real training school. You need a lot of manual skill and passion. Painting is an art that requires skill and passion and does not allow for tolerance," says Fullin. - The eye of the customer is a relentless judge. In addition to people, investments in technology are also very important: it is necessary to have painting equipment, sanding and polishing machines that are able to guarantee workmanship to the highest standards. CFN Verniciatura invests around 20 per cent of its turnover in technology upgrades and the development of new finishes. The company has also joined, through Confartigianato, the Impresa 4.0 programme to digitalise time management, to collect data from machining operations and to check consumption. Attention is also paid to safety standards: the paints used are all water-based because the protection of people's health and the environment are now fundamental.