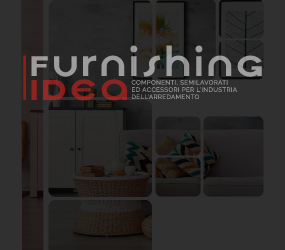 Kesseböhmer is synonymous with optimising the interior space of furniture so that everything is visible and easily accessible. With the reduction of living space, the need for intelligent space management, elegant design and ease of use has become a priority.
New products presented at interzum by Kesseböhmer include the LeMans & Arena Pure shelves and the new FREEspace folding door fitting.
LeMans & Arena Pure shelves: optimisation of interior spaces in the kitchen

The optimisation of interior spaces finds its maximum expression with LeMans: in fact, all dead angles are transformed into useful surfaces to be exploited in an intelligent way, offering 70% more useful and accessible surface area compared to a standard angle module. Thanks to harmonious curves and perfect ergonomics in storage, all objects are easily accessible even in the corner cabinet. With its patented design, all products in the cabinet can be reached in a single step.
The unique geometry of the curved shelves and the optimal height of the drawer make it even easier to remove individual objects. In addition, the possibility to adjust the height and a maximum payload of 25 kg per shelf allow the insertion of tall pots and heavy products. Combined with LeMans, the Arena Pure shelf with its compact and essential design fits perfectly into the most trendy kitchens.
FREEspace: New technology and design concept

The new FREEspace flap crankset is characterized by a much thinner and more elegant design without sacrificing robustness, guaranteeing optimal performance and a certified durability capacity well beyond the standard requirements.
This innovative crankset moves the front panel upwards so that there is no obstruction of sight or movement. Thanks to the spring integrated in the lever arm, FREEspace is very thin; the installation space is reduced to a minimum, providing more storage space. The excellent soft-closing system also prevents fingers from getting caught and allows the cabinet to be closed quietly.
The innovation also concerns the simplicity of installation: FREEspace is already assembled at the factory so it only requires one screw for installation inside the body and two screws to connect the front.
The FREEspace tilt and turn crankset is available in white/nickel-plated, grey/nickel-plated, black/black and anthracite/nickel-plated versions.