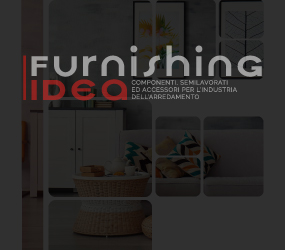 In addition to the already popular products, Grass, one of the world's leading motion system specialists, presented Kinvaro T-Slim at Sicam 2019, a new tilt door opening system that is almost invisible.
Wall units have always been the most used storage space in kitchen compositions and lately there is a particular preference for solutions with flap doors, especially in modern design environments. In view of the upcoming Eurocucina, Grass completes its already extensive range of flap door opening systems with Kinvaro T-Slim, the thinnest and most efficient hinge I have ever developed.
Kinvaro T-Slim: a movement system that integrates with the furniture

The new Kinvaro T-Slim flap door opening system is almost invisible. Characterised by a linear design, remarkable stability and perfect movement, this mechanism fits almost invisibly into the furniture and thus meets the requirements of current trends. Grass' engineers have succeeded in reducing the complex hinge mechanism to a size of just 12 millimetres, giving furniture designers maximum flexibility. From a wall thickness of 16 mm, everything is possible. There are also no limitations in terms of material: wood or MDF can be used and the glass doors and aluminium frame further enhance the essential aesthetics of Kinvaro T-Slim. The hinge integrates perfectly with the cabinet into a single unit. The reduction in the size of the hinge not only meets an aesthetic requirement, but also has the advantage of making maximum use of the storage space in the cabinet. The soft-close technology guarantees an elegant and soft-close closure.
With an opening angle of 107 degrees, the door opens well beyond the area of movement, so that the wall unit can comfortably remain open without disturbing it. If, on the other hand, the flap door cabinet is mounted directly below the ceiling, an opening angle limiter, integrated as standard, ensures that the front does not open too much.
Various mounting possibilities

As far as assembly is concerned, Kinvaro T-Slim allows different variants: it can be either milled inside or screwed into the commonly available variant on the market. The two-part cover cap can be assembled and disassembled without tools; in this way, even once installed, adjustments can be made to the opening system. Mounting on the front panel is simple, using the clip technique. The spring force is infinitely adjustable from the front: this ensures that the front can be operated lightly and elegantly.
The Kinvaro T-Slim is available in the standard colours Ice, Stone and Silver; it is also possible to have a paintable cover cap that can be adapted to the cabinet surfaces.