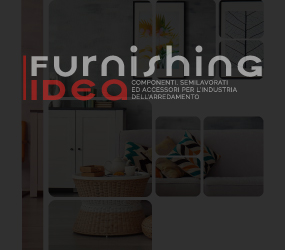 The Free fittings give new value to furniture
Häfele presented at Sicam the entire family of innovative Free flap fittings.
The Free fittings give new value to furniture, as well as an increase in the efficiency of use. Folding doors allow more freedom in the furniture design and offer a clear functional advantage compared to the classical solution of hinged door. But above all they give furniture refinement and elegance.
The Free family represents a completely new line of flap fittings, designed as a modular system characterized by a high flexibility of use. Along the Free flap 1.7 and 3.15 systems there are Free fold, Free up and Free swing, which complete the line going to cover all the possible movements of opening. These mechanisms are thinner (in their design), lighter (in their use) and simpler (in their assembly).
Free fold is an opening system for wall cabinets with height from 450 mm to 1040 mm equipped with double flaps, able to ensure smooth and reliable movements even in the presence of flaps of significant weight; the minimal opening resistance makes its use extremely pleasant and soft.
Free up is a vertical lift-up fitting for wall cabinet flaps and is the ideal solution for all those units positioned lower than other elements. Free up is suitable for wall cabinets with a height ranging from 320 mm to 600 mm to be included in the kitchen, in the bathroom and in the living room. Free swing is the ideal choice when the doors of the wall cabinet, even large, must be raised above the top of the unit. It is suitable for wall cabinets with height from 370 mm to 800 mm. Minimal effort for opening and multi-position stop characterize these fittings of high quality.
All models of the Free line can be equipped with E-Drive; pressing lightly the door or using the proper power wireless switch, freely positionable, the door opens and closes smoothly without any need for manual intervention. Silent, with emergency stop function and soft closing, the E-drive version of the Free fittings is ideal for premium furnishings.