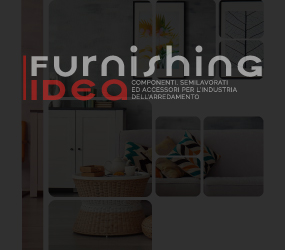 The customizable Edition design elements for the kitchen industry
At the Sicam 2016 Kesseböhmer showed for the first time the whole family together Dispensa Edition. With Dispensa Edition and its customizable design elements, Kesseböhmer has given its Dispensa larder pull-out a totally new look.
Now the company has expanded the Edition line for its base unit pull-out, the Dispensa Junior III, making it possible to achieve a consistent look behind the fronts – from the tall pull-outs to the base-unit pull-outs. For the kitchen industry, the customizable Edition design elements open up new potential for aligning products even more closely with a kitchen brand's image. With greater input into the visual impact made by the interiors of kitchen units, kitchen manufacturers can enhance their USP.
The Dispensa Edition larder unit and the Dispensa Edition Junior III base unit pull-out have a lot in common. All the pull-out and runner technology, including the hooks on which the trays hang, is concealed behind the elegant wooden panels. As the pull-out is opened, the user sees a harmonious, distinctive and above all coherent interior. The 16 mm thick wooden panels, produced by the kitchen manufacturer, are inserted in the top and bottom metal end plates, right and left of the vertical support frame. The colour, material and finish of the panels can be changed at any time to harmonize with the kitchen manufacturer's CI and to match or contrast with the materials and colours of the kitchen fronts.
The new-look Dispensa trays have streamlined, closed metal sides all round. The large-format design enhances the calm and spacious feel of larder pull-out and its high-end, contemporary image. It looks easy to live with, in line with trends towards more comfort in the kitchen.
The frames, runners and front connectors used for Dispensa Edition in both the larder pull-out and the Dispensa Junior III are components from volume series. They are thus identical to the standard Dispensa fittings with regard to installation options, ClickFixx assembly, 3D adjustment and logistics. The wooden panels and the upper and lower metal end plates can be assembled in a bypass, without impacting on assembly line cycles.