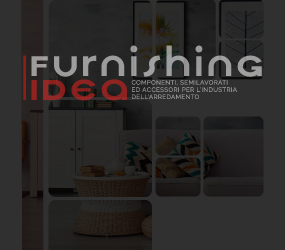 CIFM / interzum guangzhou, the exhibition dedicated to technologies, supplies, materials for the furniture and wood industry, which took place at the China Import and Export Fair Complex in Guangzhou from March 28 to 31, ended recording very positive results.
In fact, 1,459 exhibitors, including 340 foreigners, presented their innovations on the 150 thousand square meters of the fair, attracting 89,858 visitors from 107 countries and regions of China to the Chinese megalopolis, 7.8% more than the edition previous one.
Many buyers come from mature markets, including Malaysia and South Korea, but there is also growing interest in this important event from countries that are more "marginal" to date, such as India and Pakistan.
Optimism and satisfaction were expressed by the majority of visitors, as also evidenced by a survey carried out by an independent body according to which as many as 86 percent of respondents said they will come back to visit the next edition.
The exhibitors are equally satisfied who have chosen to confront a market with enormous potential where the quality and appeal of certain solutions is attracting the attention of the great Chinese industries.
The attention shown towards new technologies, furniture supplies, wood, semi-finished, decorative or finishes clearly showed a strongly evolving demand and, therefore, new and even more satisfying opportunities for exhibitors.
"We met a number of visitors undoubtedly superior to our expectations", commented Erik Camani of F.lli Cinetto, an Italian company that for the first time exhibited at interzum guangzhou. "70 percent of our meetings were with Chinese companies, 30 percent with companies from other countries; for the most part manufacturers of furniture and furnishings, including several "big names". We have exhibited in the "Custom Furniture Suppliers Zone", a new concept linked to values ​​such as trends, design, comfort or sustainability that we feel close to. On balance, a great way to approach the Chinese market, an experience that we will certainly repeat in the coming years".
Two products of Italian companies, the assembly system "Target" of Italiana Ferramenta and "Materia" of Sige have been selected for the "20 PLUS 20 Annual List", that is included in the list of the most significant and innovative products of the two-year period 2017-2018 chosen by a jury of international experts.
Also this year Koelnmesse made every effort to ensure that Cifm / interzum guangzhou confirmed itself as the most important platform for the sectors related to the furniture industry in Asia, once again winning this important challenge.
The next edition of Cifm / interzum guangzhou will be held from 28 to 31 March 2019.