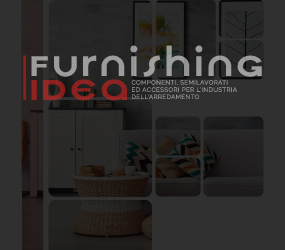 An ample range of solutions for creative projects
The edges are used predominantly combined to color, to decorum and to finishing of the panel that they must finish up. They can be also employed as aesthetical element to characterize a piece of furniture.
It may be possible to highlight an element combining an edge in decorum wood to a surface in solid color or vice versa; the detachment of the chromatic continuity contributes to relieve the aspect of the piece of furniture and to give it character.
Those who prefer instead less marked contrasts, they can try to combine patterned decorum monochrome, like the edges ABS extra lucid Esprit black, Linen or Serpentin Blanc, with white extra lucid, grey or black surfaces. In this way a personal touch is conferred to the piece of furniture.
The edges in aluminium are versatile and they adapt well both to the panels in solid color both to the decorative wood. In the kitchen furniture they form a refined complement of the metal elements of built-in appliances, sinks or taps. Their peculiar resistance to bumps and to abrasion makes them ideal edges for furniture destined to have long life. For the covering of the clogs, in alternative to the use of a solid color, it can be used a tall edge in ABS with film of aluminium.
Other solution for the designers they are the acrylic edges 3D which give a three-dimensional effect, thanks to the decorum printed on the back that shines through the layer of superior acrylic. Applying an acrylic edge 3D of 1 mm to a panel of a different color, also with a normal edge banding machine, besides an almost entirely invisible space is gotten.
And finally they exist some special acrylic edges 3D, like the Stripe stainless white LED extra lucid or the white-black Lines LED extra lucid, that can be backlit from LED strips. It is enough to make a mill for the lodging of the LED in the part of the panel behind the edge and then to proceed to the normal application of the edge (watching out only not to dress again with glue the central part of it). To the activation of the LED the light penetrates through the transparent areas of the edge conferring to the piece of furniture a suggestive atmosphere.
Ostermann Italia Srl
Via Germania 38, Peraga Di Vigonza, 35010, Padova, Italia
---
Request information