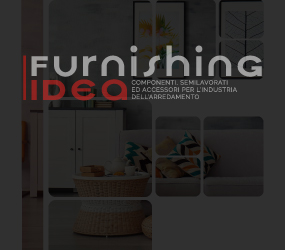 After the great success achieved last year, CIFM / interzum Guangzhou 2019 returns, the most important Asian fair for the subcontracting sector for the furniture and woodworking machinery industry, scheduled from 28 to 31 March 2019 in the China Import and Export Fair Complex (Pazhou Complex) of Guangzhou.
Also this year the event will take place concurrently with China International Furniture Fair (Ciff), the important event of the furniture industry in Asia.
Comfort, aesthetic and functional quality are playing an increasingly important role in the choices of buyers all over the world and this has led manufacturers to find innovative technologies and to propose materials and semi-finished products with high performances.
CIFM / interzum guangzhou is recognized by the Chinese and Asian market as a leading platform for trade and the main showcase to present new products for the furniture industry in this geographical area.
This edition will occupy 17 pavilions in Area B and C of the exhibition center, covering an area of ​​150,000 square meters; The products and technologies of over 1,500 exhibiting companies from over 38 countries and regions will be presented. Approximately 85,000 visitors are expected.
This year the return of the South Korean collective is expected, bringing the number of national pavilions to eight. Four pavilions will be set up by Germany, Turkey, USA / Canada and Italy, while three others will be organized by the American Hardwood Export Council (Ahec), Canada Wood and French Timber.
Among the exhibitors are numerous brands that will make their debut in Asia.
The presence of important brands in the various sectors is already confirmed.
In the woodworking machines and tools sector we find Ima, Michael Weinig, Leitz, Vollmer, GreCon, Leuco, Hans Weber (Germany), Homag, Nanxing (China), Scm, Biesse, Ferwood, Freud, Paolino Bacci (Italy) , Woodtron (Australia), Felder (Austria).
For the sector of padding machines and pneumatic components we find the presence of companies such as Duerkopp, Pfaff, Adler, Limoss (Germany), Leggett & Platt (USA), Lianrou, Yuantian (China), Elektroteks (Turkey), Linak (Denmark) .
As always, there are numerous companies in the hardware sector and its components, including Italiana Ferramenta, Fgv, Sige, Servetto, Cinetto (Italy), Nan Juen / Repon, King Slide, (Taiwan), Titus (United Kingdom), Sugatsune (Japan) ), Samet (Turkey), Lehmann, LS Lighting, Suspa (Germany). Also in the sector of wood products and adhesives (Pollmeier, Henkel, Kleiberit, HB Fuller, French Timber, Saveplac) and interior design and accessories (Impress, Schattdecor, Renolit, Lamigraf, Ica, Fritz Egger, Kastamonu, Lignadecor) the leading companies in the sector are present. Finally, as far as upholstery accessories are concerned, the companies Aydin, Boyteks Tekstil, Comfytex, Xinyada, Bekaert Deslee, Artilat / Global Textile Alliance and Jacquard Textile will participate in Cifm / Interzum Guangzhou.
The area dedicated to even more extensive customization
Following the more than positive response recorded last year by the Custum Furniture Suppliers Zone, or the space dedicated to the personalized production of furniture, the organizers of the event decided to further expand this area at the International Hall 14.1.
In fact, there are precise signs that indicate how the personalization of furniture and the creation of furnishing solutions that can satisfy specific requests of Chinese consumers is undergoing great growth. They are generally consumers of average age, with an excellent purchasing power, conquered by the design trends of the last decades and who love to surround themselves with objects that are an expression of that style and taste that they can appreciate. Consumers seeking personality, aesthetics, comfort, without forgetting the themes of eco-compatibility and sustainability.